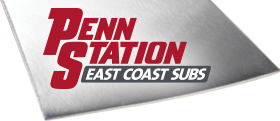 Charleston and
Southern WV
Nutrition Information - Meats
The following nutritional data was compiled from: Nutrition analysis from Penn Station® Restaurant approved food manufacturers and an independent laboratory. The nutrition information listed is based on standard proprietary recipes and product formulations. Slight variations may occur due to seasonality, use of an alternate supplier, the region of the country where certain products are grown, or small differences in product assembly.
Penn Station has four (4) sandwich sizes (6, 8, 10 and 12 inches).

The 6 inch sub contains 2.5 ounces of meat, the 8 inch contains 3.5 ounces of meat, the 10 inch contains 4.5 ounces of meat and the 12 inch contains 5 ounces of meat.
Meats
Portion
Calories
Calories from Fat
Saturated Fat (g)
Total Fat (g)
Sodium (mg)
Cholesterol (mg)
Carbs (g)
Sugar (g)
Dietary Fiber (g)
Protein (g)
Trans Fat (g)
Steak
1 oz
36
12
0.5
1.4
88
12
.19
.19
0
5
.05
Chicken
1 oz
31
7.3
.23
.81
14
15
0
0
0
5.5
0
Turkey (white)
1 oz
25
2.3
0.0
.25
250
15
.5
0
0
5
0
Ham
1 oz
34
10
.5
1.2
263
12
.67
.67
0
4.7
0
Bacon
1 slice
.53 oz
70
54
2
6
200
15
0
0
0
4
0
Salami
1 oz
120
99
4.5
11
499
35
0
0
0
5
0
Pepperoni
1 oz
142
118
6.1
13
496
35
0
0
0
5.1
.49
Sausage
1 oz
86
66
2.5
7.3
259
19
.66
.05
.13
4.4
0
Corned Beef
1 oz
73
20
1.1
2.2
603
33
.72
.72
0
12
.06
Chicken Salad
1 oz
67
45
.84
5
160
10
3.3
2
.34
2.7
0
Tuna Salad
1 oz
56
34
.52
3.8
163
6.9
35
2.1
0
2.8
0
Artichokes
1 oz
7.6
0.0
0
0
92
0
1.3
.22
.87
.44
0
Charleston and
Southern WV
"I just recently had Penn Station for the first time and I am in love with the taste. I had the Cheesesteak and I am hooked."

– Andrea